How to use LinkedIn effectively for Students
Many students used to make the mistake of creating a LinkedIn account once and not using it. After the creation, they are unaware of what to do and how to use it to achieve their career goal. Here are some tips on using LinkedIn effectively to make the most out of it.
Connect with people and Create a professional network
In this digital age, most companies hire new employees through employee referrals. The employees are recommended by their existing employees and social networks, where they already have familiarity with the candidate. LinkedIn is the best platform where you can create a solid professional network. Besides just job opportunities, you can use LinkedIn to share your passion and goals, exchange ideas, get updated with the latest trends in your industry, identify the path to your dream job.
At the same time, It is not a good practice to connect with anyone and everyone you see in your suggestions. Instead, it would be best if you had a selective group of connections like a subject matter expert who can give advice or ideas or your colleagues. It is extremely important to give as much you get to nurture a successful professional network. It would help if you also shared articles, advice, news that is helpful for others.
Request Connections
Some of the ways you can search for connections:
Search for the job titles you aspire to become and connect with them.
Searching for a specific person, you met during a conference or heard about
Search for a company you are interested in working in the future and connecting to the employees working there
Search for industry and connect to one with that term in his profile. For example, a search for digital marketing will show a list of people with digital marketing in their profile.
Add your email address to import contacts and get recommendations.
Connect someone in a LinkedIn group who you think will be a valuable connection.
Use the search filters, Boolean modifiers, and search operators to narrow your results. Having a personalized note while sending a connection request on how you know the person or why you want to connect with them is highly recommended.
You may also come across someone to whom you require their email address to send a connection request. You can use InMail which is available as part of the LinkedIn premium feature, to message and connect with those people.
Find and connect alumni from the college page.
Your fellow alumni will be more open to connecting and helping you in need as you share an important part of your journey in common. Search for your college page and find alumni currently working in an industry or company you aspire to work for and connect with them. The page allows you to narrow down the people to a very specific characteristic. This will be an effective way to build your connections.
LinkedIn Groups
As a student, joining different groups according to your interests is a great way to network with other professionals in the same domain. You can share insights, build connections with like-minded people, ask your doubts and questions. Make sure that you won't spam the people in the group to promote yourself rather than make a win-win relationship by contributing with resources and answers from your side. Joining a group will also show the feeds of the group conversation on your page and make your account more relevant to your interests.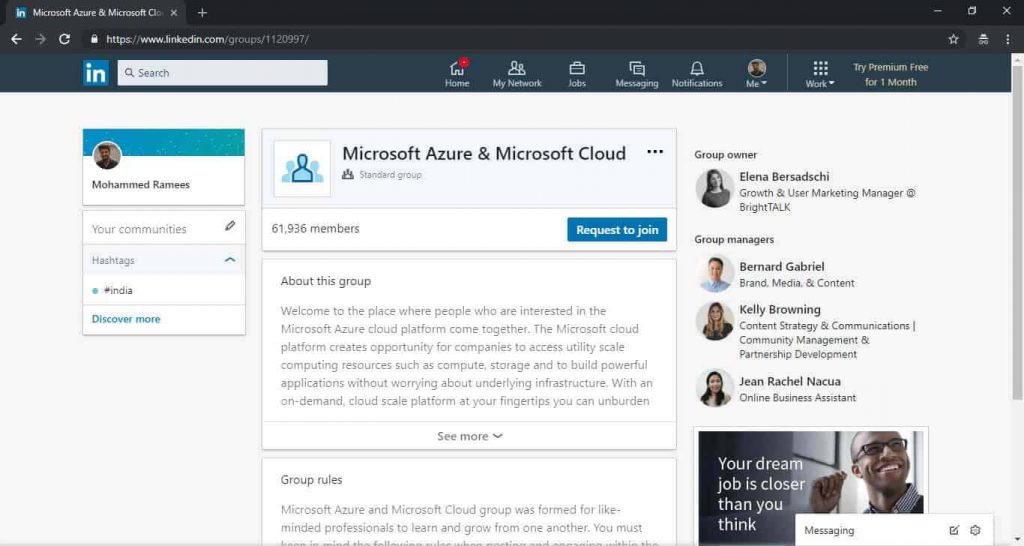 Follow companies and influencers.
Following companies and influencers you are interested in will help your news feed to be more customized. Search for the company you are interested in and select the company page from the search results. Clicking on the follow button will make their updates and job posting on your news feed. If you want to follow the updates of some influencers or thought leaders (where they don't accept a connection request from you), you can simply follow them. This will help you to be a more knowledgeable person by getting updated with relevant content and news.
Build your brand
Whatever you do online contributes to your digital footprint, which is essentially making your personal brand. Strengthen your digital footprint with a professional image, personality, and communication skills, thus impressing your potential employers. Other than being a passive consumer to your news feed contributed by others, create value to your profile by contributing in the form of articles, advice, informational posts, insights, etc. Avoid references to drugs or alcohol, bad-mouthing other people, discriminatory behaviors, poor communication skills, as well as other negative behaviors.
Share updates and content
If you come across any interesting news articles related to your field, which you feel will provide value to your network, share them on your LinkedIn profile. Either you can paste the URL of the blog, and it will generate an image that pulled from the article, or you can click the social share icon found in most websites which will automatically share that article on your account. In doing so, not only do you provide great value for others, but you also help to brand yourself as a thought leader in your field. It's a chance to get your name out there, to show what you're passionate about, show that you're willing to help others, and show that you're up-to-date in your field.
Also, please make sure that you are sharing content related to your domain. I always used to share content related to students and education relevant to my brand. Having a LinkedIn account that doesn't have any updates for a long period of time is not a good thing.
Publish articles
Blogging is one of the best ways to learn new skills, improve your writing skills and thus communication skills, share the knowledge and passion with the world, build your brand and establish yourself as a thought leader. The LinkedIn platform makes this easy without being much knowledgeable on how to set up a blog. You will be able to track the views, comments, likes, and much more of your contribution. Many students step back from this without giving it a try because of the thought that nobody will be interested to read them, and they are not that good at writing. I highly recommend making a try as everyone started like this, and this is your best time to try.
Send and receive messages.
If you're messaging someone you don't know well, including details of how you might know each other or why you're interested in connecting with them, it doesn't seem like a random connection. LinkedIn is a professional network, respect others' time and make your messages short and to the point. LinkedIn is about win-win relationships, so don't spam your connections. Approach each connection with the mentality of adding value, not just extracting gain for yourself.
I highly recommend opting for the option Click Send. This will help you avoid making the mistake of sending a message before it is ready. If you want to send a message to a person who hasn't accepted your connection, you can use the feature called InMail, which is part of the LinkedIn premium.
Explore potential careers and companies
Tap into the power of LinkedIn as a research tool to help you determine your career goals and outline a pathway to achieve those goals. Search for the companies you are interested in and positions you would like to have in the future. Have much knowledge about a company like, what they do and what they value. This will help you with the interview preparation. Look for those who are successful in your field, and realize the path they took to hold a position you would like to have at some point. Many of your dream jobs you may not get just out of your college. See what other jobs led them to that. Also, look at the keywords they use, which may also help your profile.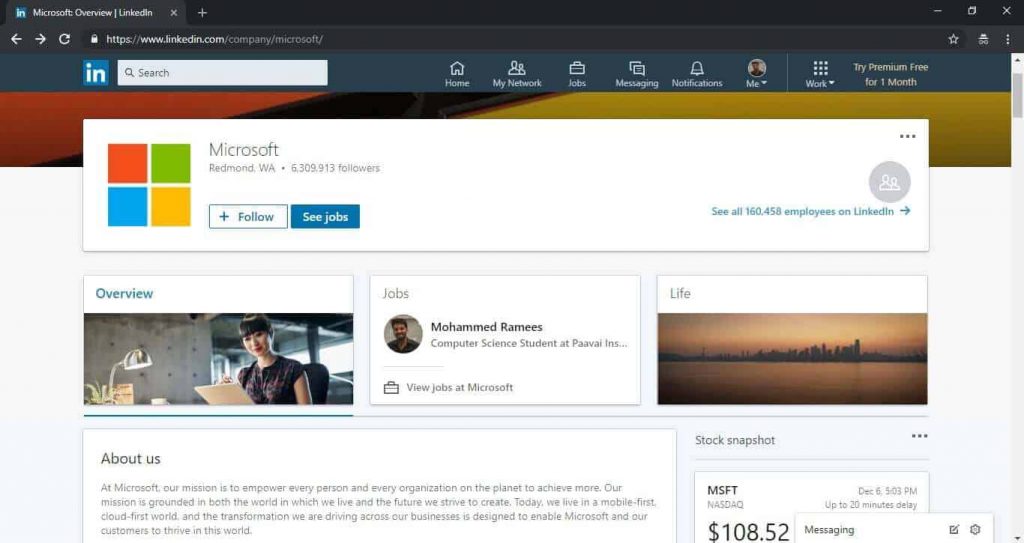 Search for jobs
By default, you will have some Job recommendations from LinkedIn. This is based on some criteria and the details you entered in your profile. Being a student, yours may be filled with more a kind of internships. You can also search for specific jobs other than what they recommend through the Jobs page. LinkedIn also allows narrowing the results using various filters like Part-time or full-time, Job type, Date posted, industry, etc. You can also save these jobs.
Some job posting allows you to apply in simple steps with the help of the Easy Apply feature. There you just needed to fill in a few more details and attach a resume. They will capture the other details from your profile. From the LinkedIn Salary page, you can have an idea of the average salary for a specific job title.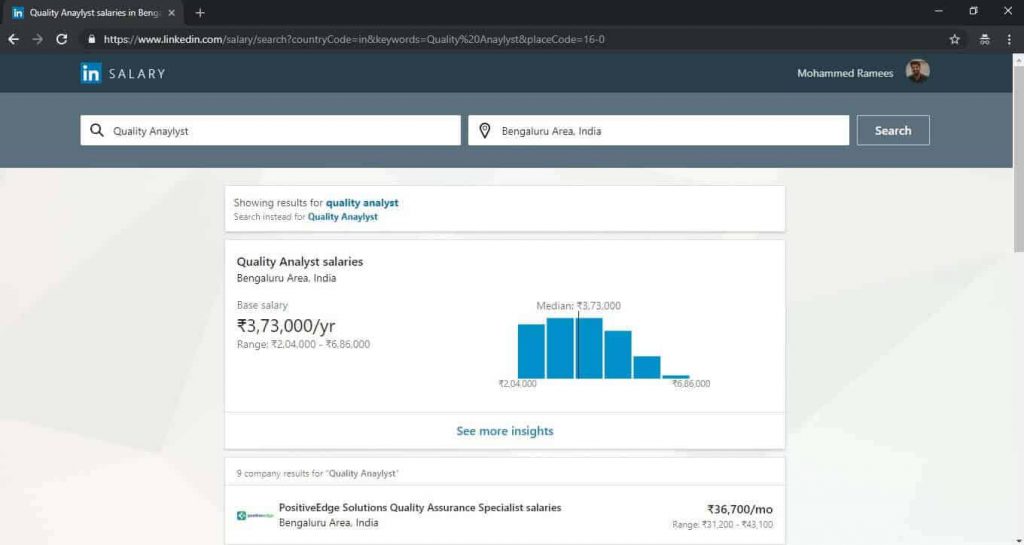 Set up job alerts
It's a good practice to set up job alerts to get notified of new job postings as of your interest. LinkedIn allows you to set up job alerts on the LinkedIn Job page to notify you via email or LinkedIn notifications. Whenever someone posts a new job that fits your criteria, you will get a notification. You can see the option for setting job alerts whenever you search on the jobs page. You can set how often you want to get the notification and what medium (email or app notification, or both)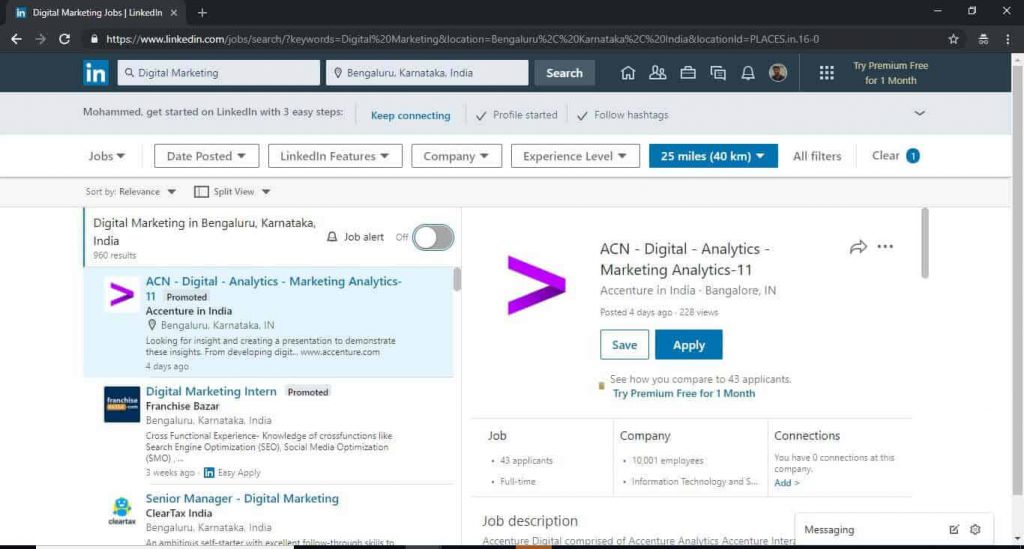 If you have not set up a LinkedIn account or thinking of starting a new one. You can check out my blogs on Setting up a LinkedIn account and Customizing your Profile.