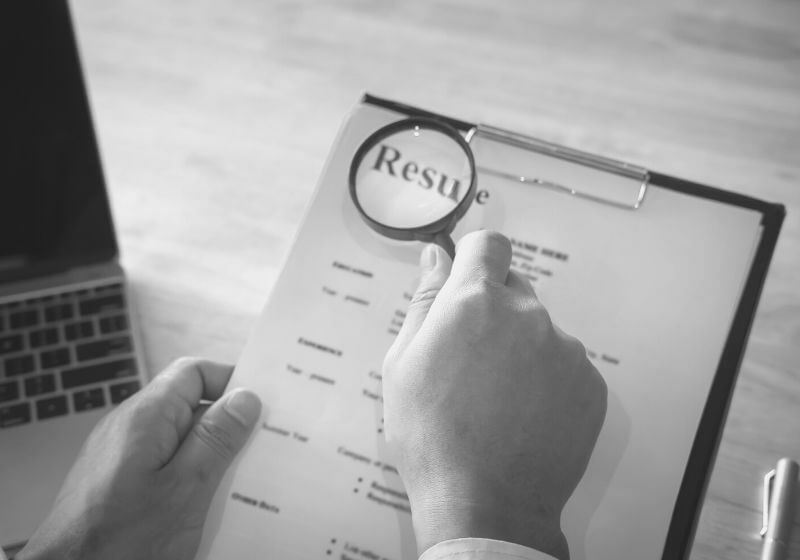 mohammedramees
January 11, 2022
Career Tips
Make your resume read by Humans – SEO Your Resume
Introduction
Are you one who has applied for 100s of jobs online but didn't get any response? Do you know that 72% of the resumes submitted for a job are never seen by any HR person because of the evil ATS (Application Tracking System)? Almost every HR person in big companies uses ATS to prescreen the application. Here we will see some tips on how to SEO your resume and bypass the ATS with keyword optimization. Thus, you can increase your chance of getting seen and get at the edge of application competition.
Even though just doing SEO on your resume will not be the sole part of success in Job Search, it will help you focus your efforts on a particular job. Your resume should always be relevant to the job description to rank higher in their databases. Like we do SEO for our websites to rank higher in Google results, You should also format your resume to keep relevant. At the same time, it should be clean and easy to read for both humans and computers.
Search Engine Optimization
The HR managers may have been clogged with thousands of resumes because the job seekers used to apply for irrelevant jobs and positions for which they are not qualified. They use a search software similar to Google called Applicant Tracking System. ATS serves as a kind of digital gatekeeper automatically reviewing tons of resumes submitted to it. It is not possible for them to individually check each application. So, they submit the same to the ATS, a computer program that attempts to read your resume and rank it according to the job description based on the keywords submitted. So, if you can inject your resume with real and honest matching keywords in a properly formatted word document, there is a heavy chance of your resume to be actually seen by the HR person and thus get into the interview.
SEO Your Resume
Read and understand the job description and make sure that you are only applying for the jobs you qualify for. The following points help you bypass HR using keyword optimization.
1. Choose and use the right Job Titles.
Include the actual job title of the job you are applying for in the resume.
Example: If applying for the Sales Associate position, keep the same title at the top of the resume
Try to change your experience to the same title if it is similar. If you had the title of Sales Executive in the previous company and are applying for a Sales Associate position, then change the same by getting permission from the previous employer.
Use the same title that everyone else calls. Do research by searching for all the possible terms in different jobs sites and use the one with more results. Example: Keep yourself away from using terms like Sales Ninja as those won't pass the ATS
2. Do a Keyword Research
A keyword can be either one word or multiple words creating a phrase. Visualize prominent and frequent keywords in the job description. Use word cloud software http://www.tocloud.com & http://Wordle.net. Copy-paste the job description to platforms and make a list of those keywords that are appearing most. Always try to inject the exact match keywords into your resume. Pay attention to "Requirements" and "Qualifications" in the job description.


3. SEO &Keyword Optimization
Refer to the previous list, which you extracted from the job description, and insert the exact match keywords into appropriate locations of your resume.
Insert 15-30 exact match keywords in logical locations. Use it correctly in paragraphs or bullet points and ensure readability by not overstuffing it.
Be truthful and honest. Lying may help pass your test or HR but may get fired within the first week of work.
4. Design and Formatting
Create a resume that has a balance of both visual appeal and proper ATS formatting. The goal is to optimize your document to feed properly into ATS software yet still look good to an HR professional. Make sure that you won't choke the system by making your design complicated. Keep in mind resumes touching human hands.
Keep a simple design.
Use only basic font type and stick to one type throughout the resume. Always use font sizes between 11pt and 16pt
Don't use header and footer sections in your resume doc.
Keep away from using unique or strange characters and smileys
No Graphics, Borders, or Shading
Keep away bullets; replace them with dashes.
Remove extra or condensed spaces between letters.
Use columns instead of tables.
5. Do Format it for both Human Beings and Software.
Label your contact information properly and place it at the top. Phone number, email address, physical address, and website
Label headings properly like Contact Information, Summary, Qualifications, Work Experience, Education, Certifications, Skills, Accomplishments, and Awards.
Don't use suffixes and prefixes in your name, and place it at the top.
Spell out acronyms and abbreviations. Instead of MS Certified, use Microsoft Certified.
Use proper punctuation and capitalization.
Bold Text in moderation is OK.
Can use the color font but in moderation
6. Test your resume
Test your resume for formatting and characters. The best way to do the same is to save your word document as a .txt file. Open the text file using any text editor like notepad. Scroll down the complete file to check for any wired line breaks strange characters. If found, look back to your word document and correct the same which caused the problem. For example, using a bullet point may cause some strange characters in the notepad. Use columns instead of tables to remove strange breaks. Perform a spell and grammar check also. Use tools like Grammarly and make sure that your resume is error-free.
7. Visualize your resume
Check your completed resume with http://www.tocloud.com and http://Wordle.net by copying the entire content of your resume here and which keywords are getting focused and verify whether it matches the original required keywords list. As a final step, check with www.resonate.com, which can help to rank your resume against the given job description.
Cover letter best practices
If you want a job, absolutely you need a cover letter. Grab attention and sell yourself within the first paragraph, describing what were you were and why they needed you for that position. Even though they may not run the cover letter in ATS software, it is good to use those keywords you extracted from the job description in the cover letter also in context.
What not to do – Black Hat SEO
Please keep away from using unethical technics to manipulate the search results.
Don't use the same keyword 15-30 times in your resume.
Don't hide keywords by using white font color in the white background. This may look like anything there to humans, but to software, it may appear.
Recent Comments
No comments to show.